Home Health for East Texas –

Choice Homecare
Senior Health experts know that receiving medical services in the home can help senior citizens live in their own homes for longer – often many years longer.
That is the mission of Home Health – and in East Texas, of Choice Homecare. 
Stacy Garner with Choice Homecare will have a booth at the Jasper Senior Expo to answer your questions in person.
Visit Stacy's booth with questions about:
Having a home health nurse come by to assist with recovery after an operation or illness
Getting a speech therapist to assist you or a loved one in the privacy of their own  home
How an in-home occupational therapist can help you get back to really living – and performing tasks for yourself like cooking, bathing, and getting ready for the day.
Having an in-home physical therapist assist you with getting stronger, performing exercises and tasks in the comfort of your own home
For many Jasper / Woodville area seniors, home health services can be the key to recovery after an illness or injury.
Many of us are miles from hospitals and rehab centers – anything we can have done in the home saves us several hours of travel each week.
Stacy Garner with Choice Homecare will also host a free class at the Jasper Senior Expo about the benefits of receiving services via home health care in the Jasper / Newton / Woodville area.

Do you have questions before the Jasper Senior Expo?
Call Stacy Garner Today:
Choice Homecare – Home Health Services for East Texas and the Golden Triangle
(409) 994-0300
Here is the information for the Jasper Senior Expo:
Wednesday, November 1st
10am – 2pm
Wesley Center at First United Methodist Church
FREE Event for seniors 55+, their family, and their care givers
Senior Church Groups, Senior Living Facility Groups Welcome
Health Screenings
Games
BINGO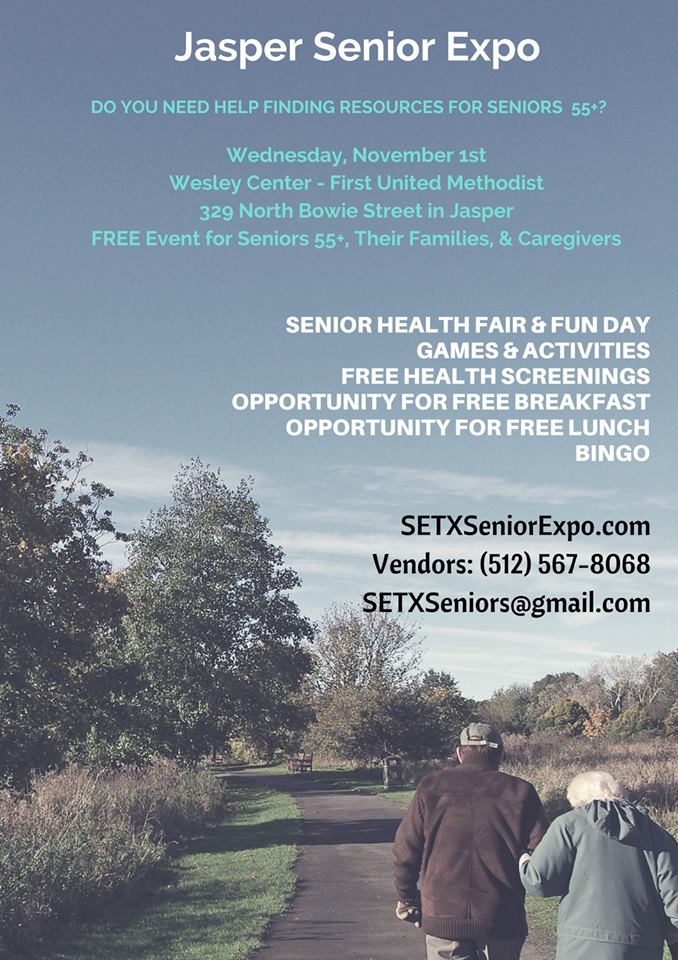 Do you have additional questions about this Southeast Texas Senior Expo Series Event?
Daryl Fant. Publisher. SETX Seniors & SETX Senior Resource Guide.
(512) 567-8068
Thank you to First United Methodist Church Jasper for opening their facility to our seniors.
Would you like to know more about this great Jasper community church?
Click here for the First United Methodist Church Jasper website.
Are you ready for more information about East Texas home health services?
Stacy Garner would love to answer your questions:
(409) 994-0300.
Stacy.Garner@ChoiceTx.com
Remember, in East Texas you have a CHOICE when it comes to home health services including speech therapy, nursing services, physical therapy, and occupational therapy. 
Did you know home health agencies can also help you with managing diabetes? It's true!